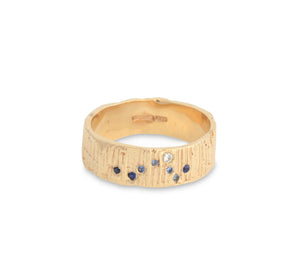 Wave crest
Sale price Price $1,857.00 Regular price
Are you barking mad about someone?!
This ring is cast from sea bark found on the beach which gives it a beautiful, glistening texture. It is crafted in 14 carat yellow gold with a  6mm width. Eily forages for these rings when home in Ireland along the wild West coast.
Organic grooves catch the light like ripples on the sand. The inside has a smooth, bright polish for ultimate comfort.

8 sapphires in blue to white to blue are set in the shape of a wave crest. 

Each piece of jewellery comes in custom black boxes that have a gold foil logo. All boxes are recycled as are all business cards and postcards that are also included.