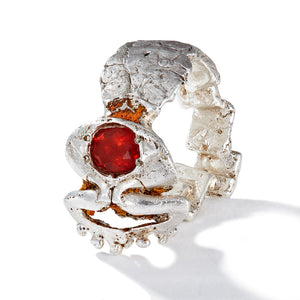 Corroded Dweller
Sale price Price $961.00 Regular price
Contemporary ring from Eily's "Hybrid" range of one of a kind pieces. So-called, as each one is cast from a hybrid of various organic plants or insects. Recorded into silver or gold, these treasures take up a new life of their own and each one is individually named. 
 "Corroded Dweller" is cast from sea bark, layered up like steps around the finger with a crab's body and dung beetles head. The dead dung beetle was found in a sand dune Eily was exploring whilst on holiday. Other areas have been carved from wax to bring it all together and then it has all been cast into solid silver. It features orange enamel accents and a fire opal stone set into its mouth. It is named "Corroded Dweller" as the orange enamelling resembles rust and dung beetles like to spend time dwelling underground to eat their collections from the day.
A unisex ring for either females or males. Size Q.  
Dimensions 12mm approx band width and 20mm head width and very comfortable to wear.
This ring will come with a personalised note and details of it's birth.
Each treasure comes in custom black boxes that have a gold foil logo. All boxes are recycled as is all business cards and postcards that are also included. An ethical approach is a core value in the studio.