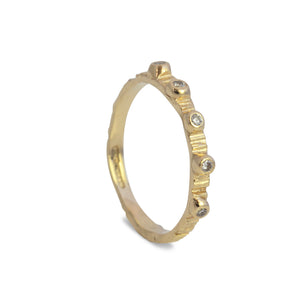 Bark raindrop diamonds
Sale price Price $1,522.00 Regular price
Bark textured rings set with various "Raindrop" diamonds. This unique ring features 5 tiny conflict free white diamonds set into each drop. 

The ring is cast from sea bark found on the beach which gives it a beautiful, glistening texture. The "raindrops" sit on top in uniform sizes creating more texture and colour.  

This one is a dainty 2mm band that will sit beautifully alone or with other rings. The inside has a smooth, bright polish for ultimate comfort.
It will be made to order and hallmarked. Price here is for 14 carat yellow. Contact for quotes for other carats. 

It will arrive to you in a custom black box that has a gold foil logo. All boxes are recycled as are all business cards and postcards that are also included.