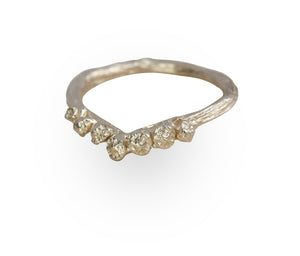 Hedge of berries V
Sale price Price $755.00 Regular price
Are you hedging your bets on someone special to partner up with?! Delicate gold ring cast from berries and a textured twig band. Like a little row of berries on a hedge to be worn by you! 

Created in a chevron/ V shape so it can fit with other rings that maybe have bigger stones. Perfect as a wedding/stacking ring or add a modern and contemporary look to a classic engagement ring design you may be wearing. 
Made to order with hallmark.  
Each treasure comes in custom black boxes that have a gold foil logo. All boxes are recycled as is all business cards and postcards that are also included.